LCD Writing Tablet-Best Way to Free Kids Imagination
Jun 20, 2022 by Susie
When children grow to a certain stage, they will really enjoy expressing themselves through drawing. For example, many children like to paint on the walls, door and floor at home. As a parent, are you depressed about your children's "special work" at home? When your children are addicted to electronic products, as a parent, are you worried about the danger of electronic radiation? Lcd writing tablets can help you solve these troubles. Cheerfun lcd writing tablets have a 10-inch screen. Compared with walls and floors, lcd doodle boards are more suitable for children's creative expression. It is full of neon colors, and can be erased with one click, and can also save the works of small painters with one click.

Unique shape and design
Most of the drawing boards on the market today are simple in appearance, however, children are naturally interested in cute things. Cheerfun doodle boards have unique designs on the market, combined with cute animals design, including dinosaurs, unicorns, kittens, cute dogs, and other shapes that have won the love of many children, and each tablet has a variety of colors for children to choose from. It is worth mentioning that every Cheerfun Lcd writing tablet has a unique name and special story. They are not only cold handwriting boards, but also good friends who accompany children to grow up together.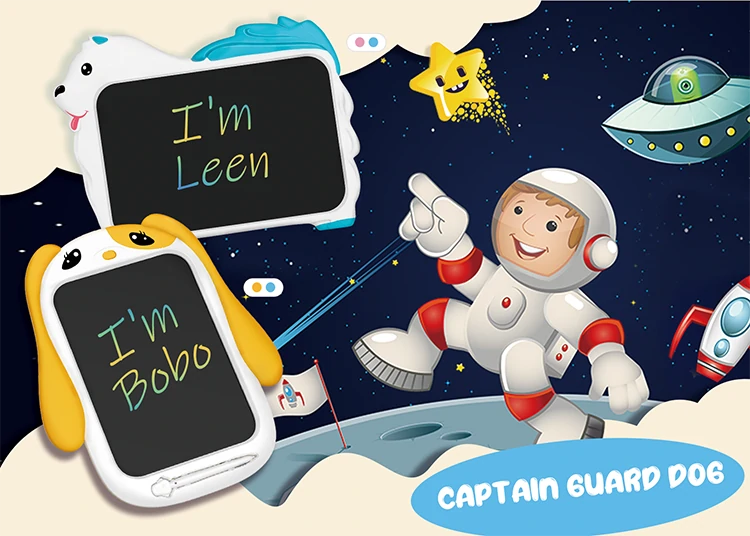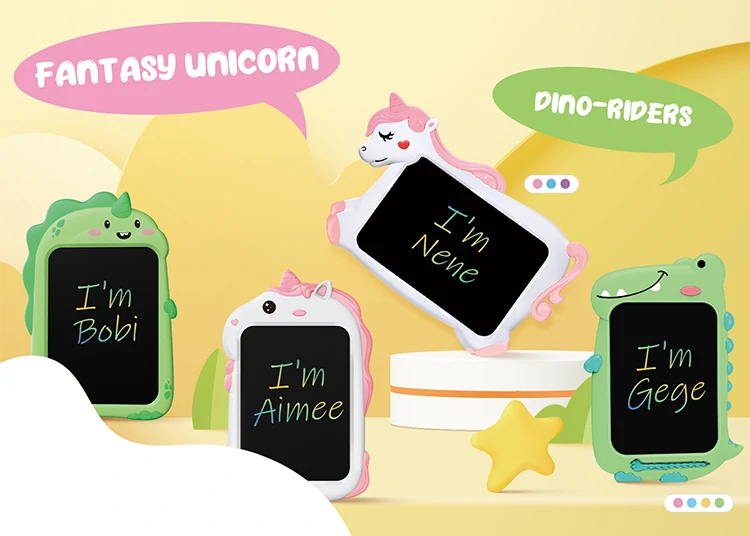 Safe crafting materials
The safety of any toy and product is particularly important for the safety of children, in today's technologically advanced, more and more children are exposed to artificial electromagnetic fields (EMF), for example, mobile phones, computers, wifi, iPads, which undoubtedly have a detrimental effect on children's brains and physical and mental health1. However, Lcd writing screen are specially designed not to generate any electronic radiation, screen flicker, blue light and other potential hazards, thus protecting children's eyes and physical health, even under prolonged use. Cheerfun Lcd writing tablets feature LCD's latest pressure-sensitive technology and a new writing experience: delivering vivid iridescent colors without glare and blue light. It provides a real paper and pencil experience, and is made of friendly Upgrade ABS material, which is safe to use in the house, on the plane, and around the car.
Best choice for kids
Since the establishment of Cheerfun, constantly receiving the love of children, many children will spontaneously share their stories with Cheerfun on social platforms. The mission of Cheerfun is never to stop striving to build a fun world for kids to offer them a better future, and they would love to help every kid grow with fun, focus on kids' interests, and stimulate the inner potential of children to bring out the best in every kid.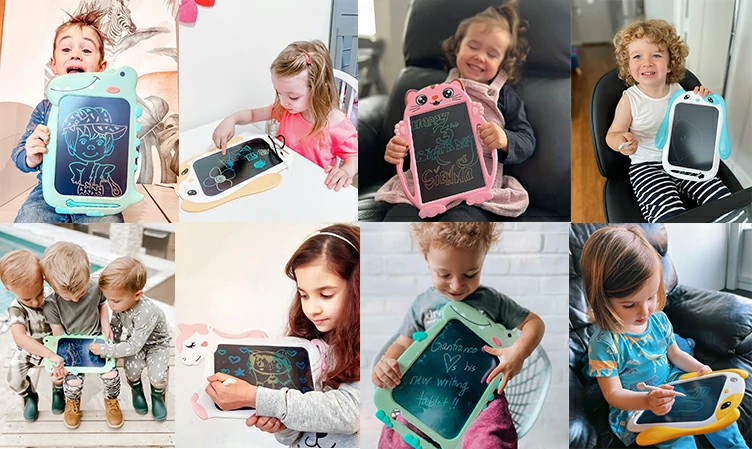 FAQs
Q1. How much is a Lcd writing tablet for kids?
It will depend on the design and features, a Lcd writing tablet costs around $15-$22.
Q2. Is it safe for kids to use the Lcd writing tablet?
Kids will experience biting stage from 1 to 3 years old, they are likely to eat whatever is around them. Cheerfun drawing boards take upgrade ABS materials which are very safe and non-toxic for kids.
Q3. Does the user need to replace the battery frequently?
The battery is only used to wipe the screen. Writing and drawing on the screen does not consume any power. The graffiti board can write 100,000 times, avoid wasting paper and pencils, avoid extra costs, and no longer clutter at home, making it a great choice for toddler toys. The battery can last for half a year to a year.
Q4. Want to get drawing lessons?
Follow Cheerfun social media to get more simple strokes courses.
Reference:
Moon JH. Health effects of electromagnetic fields on children. Clin Exp Pediatr. 2020;63(11):422-428. doi:10.3345/cep.2019.01494